A Crystal Ball and Buyer Incentives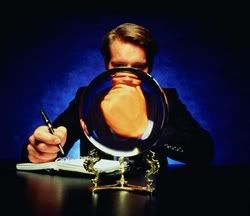 I got it!!
A member of my staff finally got me what I've needed all these years…a crystal ball!!!
I will confess to being somewhat frustrated and confused with it though. As much of a gadget freak as I am, I can't figure out where the batteries go so the dumb thing will work! So, until I figure it out I'll just have to use the facts and what I see happening in the market.
Activity seems to be steadily moving forward in that there seems to be a continuance of contracts being negotiated to acceptable levels and escrows are being opened. Price and emotion together seem to still be the key.
What has emerged in the past several weeks is some innovative thinking on the part of some sellers and their agents. Agents that have been around for several years have seen more "normal" markets than the ones of the past few years and are accustomed to more creative thinking when it comes to attracting buyers.
These agents understand that giving Agent incentives, like higher commissions, trips to Hawaii for the selling agent etc., does little to entice the buyer themselves. What some Agents are doing now is encouraging sellers to offer buyer incentives like "Buydowns" -the actual buying down of the interest rate for the first few years, hence lower initial monthly payments for the buyer.
Let me explain:
Take the example of a home priced at $700,000. If a buyer puts 10% down ($70,000) and gets a 7% loan for 30 years on the balance of $630,000, the loan payment (not including taxes, insurance, etc.) would be $4191 per month.
Now, if the seller "buys down" the interest rate on the same loan by 2% for the first year and 1% for the second year, then the buyer's monthly payment is $3381 for year one, $3777 for the second year, and $4191 for years three and on. That's a $14,648 savings to the buyer in the first 2 years they own the home! It does cost the seller $14,648 to do this though.
So, why not just reduce the price by that same $14,638, you might ask? Here's why. Let's take the price of $685,316 ($700,000 minus the buy down cost) and apply the same 10% down ($68,531) and 7% interest and you get $4,103/mo. Which do you think the buyer would want? That's why.
Yes, your property taxes will be based on the higher sales price by about $13.41/mo, but would you rather have a $3381 payment plus $13.41 for taxes or $4,103. Oh and by the way, there's no negative amortization with these loans! Now that's the kind of stuff that motivates buyers to a decision…cash in the bank or cash they don't have to spend.
What I see when I put cash under my crystal ball is… cash! When I put nothing under it I see clear glass. The voice I hear is that of experience of many years at my craft: be creative, reasonable and go for a win-win and it will all come out in the wash.
Of course, when I finally figure out where the batteries go and I get that crystal ball working I'll let you know.